Individual Clients
Drogi kliencie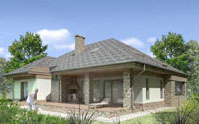 When designing a house for you we remember that we are creating space that must be joy to behold...
Each design is prepared individually for a given customer, so it is characterized by originality and meeting personal requirements consistent with the Client's vision. When establishing design assumptions, we advise and propose solutions corresponding to the Client's needs, keeping in mind the designing principles relevant for a given set of external factors accompanying a given investment. For us, architects, it is a greatly satisfying moment when we may see the contentment of users of the buildings we have designed.

Our Offer:

- construction designs of detached houses
- house interior designs
- alternative construction designs
- energy certificates of buildings

Why an individual, rather than a "typical" design?
The current market offer contains a large number of typical designs offered by many companies. Unfortunately, the designs, in most cases, do not have the most important feature that your future house should have. Beside technical issues, such as inconsistency of building elements with the Local Zoning Plan, leading to the necessity to re-design the ready design, a typical building is not adjusted to your individual needs. The house should fulfil its functions in the best possible way, according to the needs of residents and their lifestyle.
Designing a house on special order, you decide about many characteristics of the future building, such as:

- functional layout
- size of rooms
- look of building
- standard of solutions
- construction solutions
- material solutions

Why should you order the design specifically from us?

- we create designs with the view of your specific needs
- we design solutions influencing the cost of construction
- we propose solutions that enable lowering the costs of maintenance – LOW ENERGY HOUSE

Contact us to learn how much a design prepared especially for you may cost.

Feel invited to view our designs and implementations - DESIGNS
BIURO:
Al. Solidarności 113/72
00-140 Warszawa
ADRES E-MAIL:
TELEFON/FAX:
+48 22 620 43 59
+48 606 888 584